Case 1: A New Attempt at Intelligent Emission Reduction under the Digital Twin
With the further development of a scientific revolution and industrial transformation, the global economy is becoming increasingly digital. Climate change has also received widespread international attention, with the world's major economies promising to achieve carbon peaking and carbon neutrality goals. Emerging AI and 5G digital technologies are quickly being integrated into traditional industries, improving the efficiency of production and service all across the board and promoting green, energy-efficient, sustainable models of production and consumption in pursuit of carbon peaking and carbon neutrality goals.
Moviebook is an intelligent vision technology enterprise that relies on its computer vision, AI, and digital twin technologies among others to cover a range of scenarios that include intelligent media, intelligent science and education, and digital commerce to help introduce intelligent, digital, green upgrades to multiple industries. Through digital technology ADT, Moviebook promotes energy conservation and emissions reductions in a variety of ways.
ADT refers to the deep integration of AI+DT (digital twin), characterized by improved production and service efficiency, energy conservation, and emissions reductions. Business-wise, the digital manual business based on this technology leverages the power of digital technology for a greener society through "data, information, and image visualization" to reduce user reliance on paper and promote reductions of carbon emissions. Industry-wise, Moviebook provides multiple digital technology services, such as Al digital application implementation and virtual reality scene execution among others to improve power system operating efficiency and reduce losses and waste. As for digital city construction, Moviebook's ADT engine amplifies the value of data and information, allowing the physical city and the digital city to "grow together" and the city to operate more intelligently while saving energy. As regards its own construction, Moviebook has established the first low-carbon demonstration project in the field of intelligent imaging, i.e., a visual production base and supercomputing center covering core domestic network nodes. Through self-developed technologies such as clean energy, technical architecture, product innovation, high-performance servers, liquid cooling and heat recovery technology, and Al temperature control, it reduces energy consumption and carbon emission throughout the entire life cycle.
Moviebook employs digital technology to make dual control of energy resource consumption possible while regulating carbon emissions. Through advanced system control methods, energy-saving algorithms, and energy storage devices, energy conservation permeates the production process, which ultimately achieves system-level carbon peaking and carbon neutrality in its own operation and supply chain. It is predicted that during the "14th Five-Year Plan" period, electricity consumption of the supercomputing center will be reduced by 38.7% and that of the visual digital base by 75.3%, with the corresponding carbon emissions to decrease by 43.2%. Moviebook promotes the reduction of carbon emissions in the upstream and downstream segments of the industry and covers a wide range of industries with more than a thousand low-carbon intelligent vision technologies. It is estimated that Moviebook's commercial and industrial chain green digital operation and management solution can increase production efficiency by over 1,000 times and reduce the production cost by 99.7%.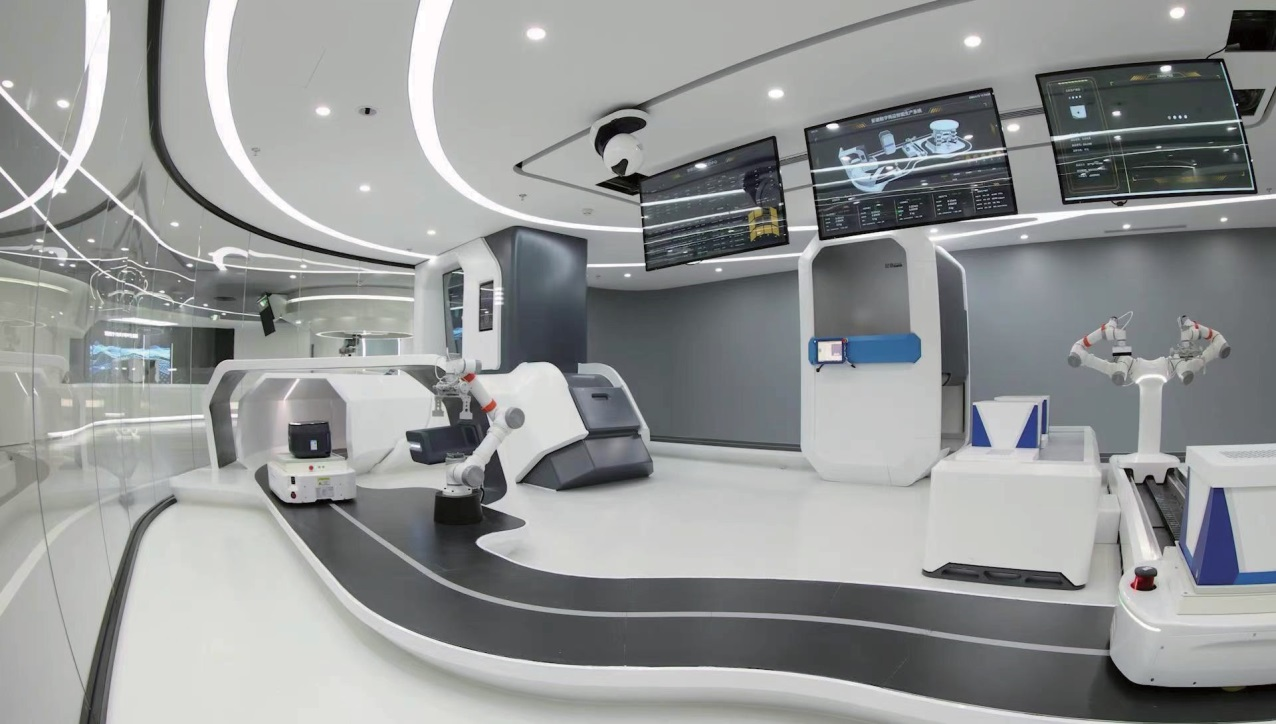 The Digital Production Line of Small Commodities in the Moviebook Visual Base
Moviebook is constantly seeking new paths for industrial integration. It employs AI and digital twin technologies among others to reshape the ecology of industrial production and consumption, bringing intelligent, low-carbon, green production, services, and living scenarios within reach. It will continue to strengthen the integration of ADT engines and traditional industries and promote the digital transformation of various industries to achieve energy conservation and meaningful reductions in emissions. (The project received the Wu Wenjun AI Science & Technology Award from the Chinese Association for Artificial Intelligence, the CAA Enterprise Innovation Award from the Chinese Association of Automation, and the Golden Bridge Award from the China Technology Market Association and has been recommended and provided by Moviebook.)