Case 2: AR navigation experience at Suvarnabhumi Airport, Thailand
For years, the Thai government has emphasized digital development. Since 2016, the Thai government's support for the digital economy has been guided by the "Thailand 4.0" plan, a 20-year roadmap for Thailand to move toward a "value-oriented and innovation-driven economy" focused on digital improvements to improve the quality of life, productivity and efficiency of the Thai people.
As an important infrastructure for air transport and cities, airports will take on the responsibility of developing the country's digital economy and digital transformation under the "Thailand 4.0" plan. According to the Managing Director of Airports of Thailand (AOT), Nitinai said that AOT is accelerating the development of technology to improve services and make the airport more dynamic, and that digital disruption will happen eventually, "which is also a big challenge for the Ministry of Transport".
Suvarnabhumi Airport, one of the six airports under AOT, covers an area of 320,000 square kilometers and is one of the most important aviation hubs in Southeast Asia and even in the Asia-Pacific region, receiving the largest passenger throughput and aircraft movements in Thailand each year. In 2019, SenseTime cooperated with SKY ICT to carry out digital transformation for the 500000 square meters of large-scale physical space of Suvarnabhumi Airport in combination with AI and MR technologies to optimize the service experience of airport passengers.
AR Navigation. Based on large space digital reconstruction, visual positioning and MR technology, it can realize real-time positioning and AR real-world navigation for passengers in the airport. Combined with the AOT mobile app, passengers can open the AR navigation function in the app after arriving at the airport, scan the airport environment to locate and obtain convenient route guidance services. Following the AR arrows and virtual guides, passengers can easily reach their destinations to handle visa processing, currency exchange, cab rental, shopping and other airport services. At the same time, AR navigation is connected with the passenger flight system to navigate to the boarding gate with one click. AR navigation is more efficient than traditional information counters or 2D flat map guides, helping passengers to get to the airport accurately and directly, saving time for airport activities.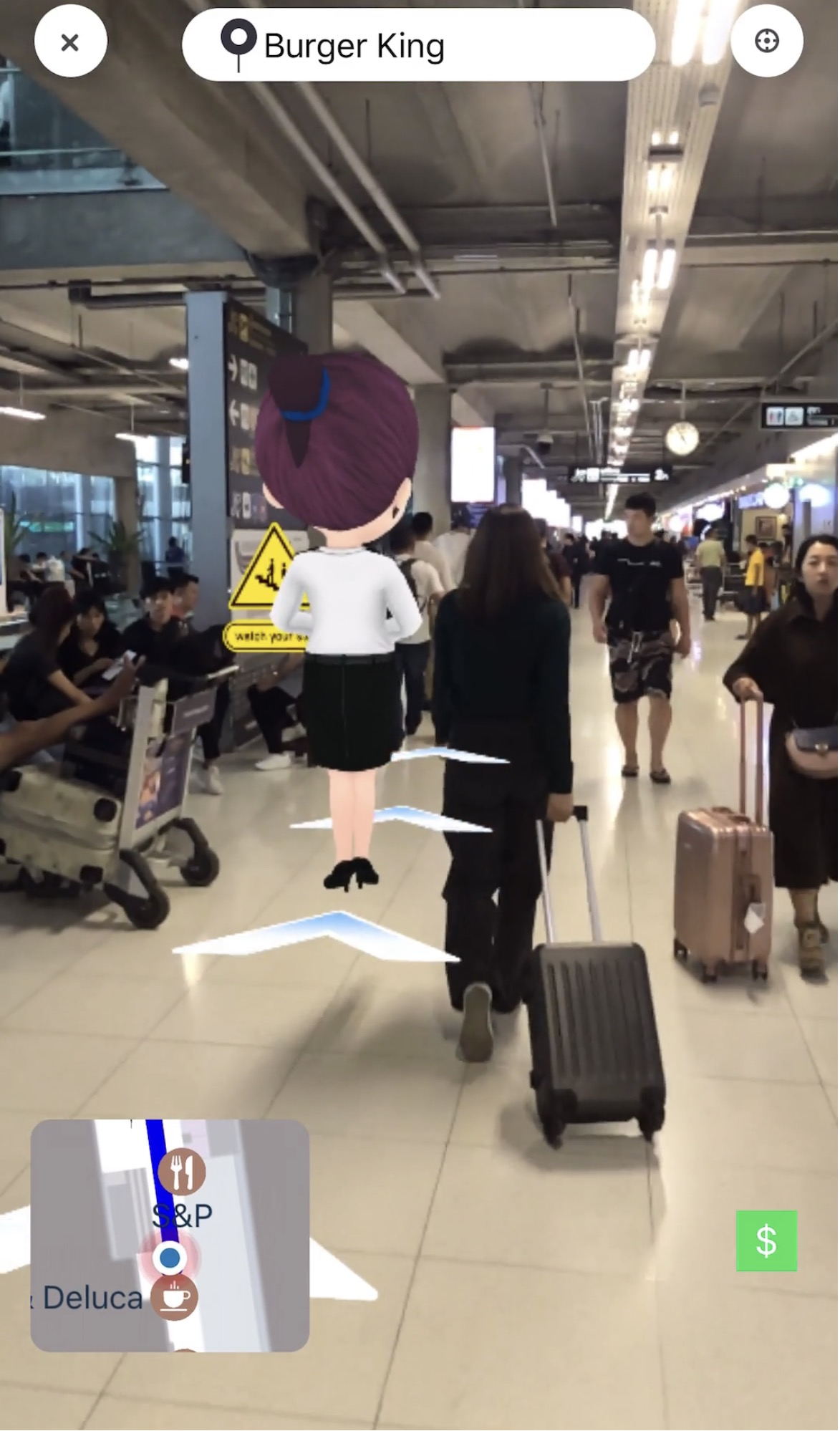 Figure: Airport AR navigation effect
AR marketing. In the AR navigation journey, the AR billboards of stores along the route are integrated, and passengers can learn the key information of stores such as special activities, product recommendation and per capita consumption in real time, which provides passengers with intuitive and quick information reference to enter the stores for purchase and brings convenient shopping experience, and also further promotes the marketing conversion of airport stores.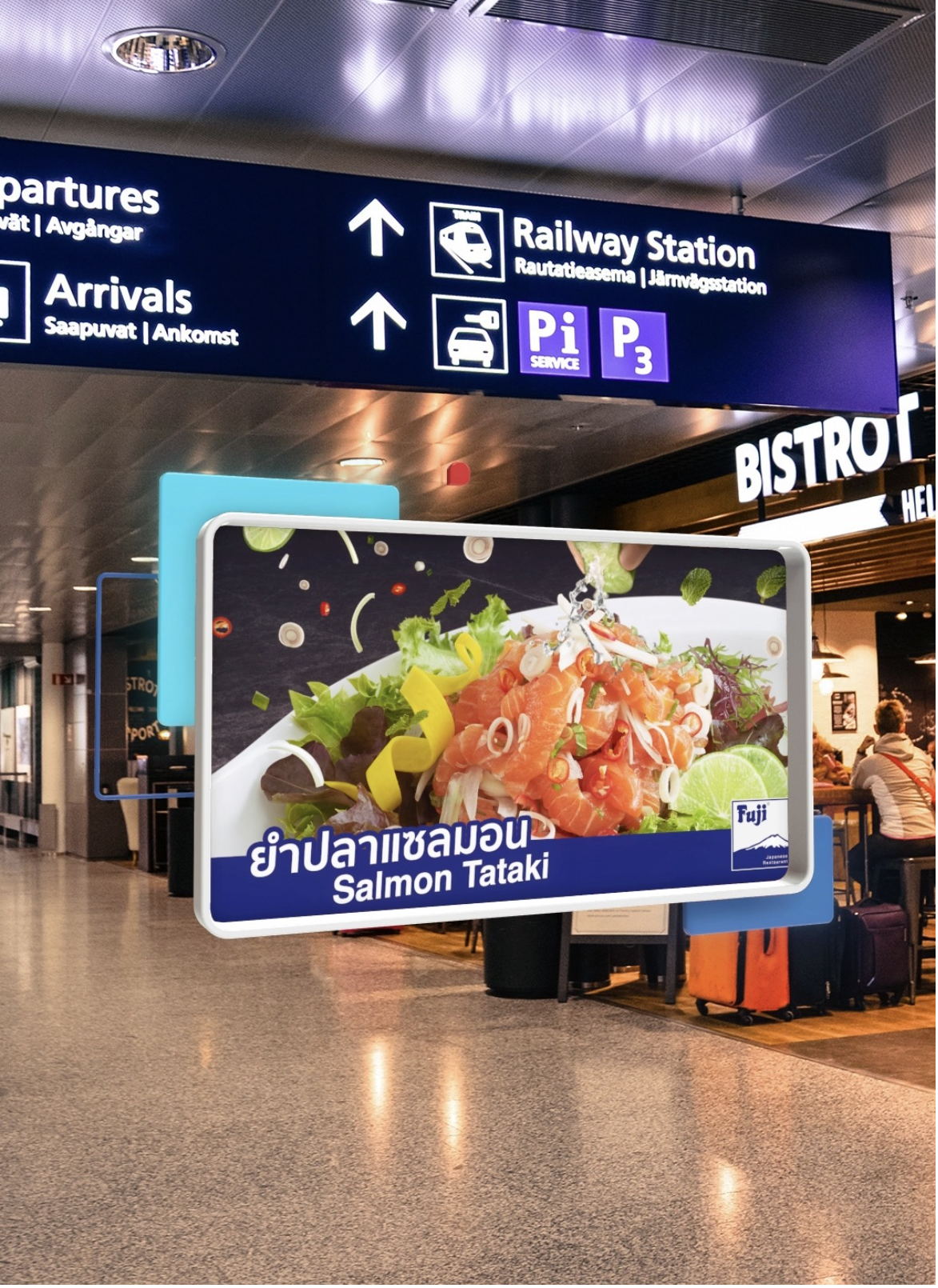 Figure: Airport AR advertising effect
Achieving high-precision navigation in large space scenes in airports through AI and MR technologies is a major innovation in the aviation industry. Traditional navigation in airport scenes is mostly based on GPS positioning or Bluetooth beacons, which cannot avoid the problems of large positioning error, high hardware cost and cumbersome maintenance. Based on the leading computer vision and MR capabilities of SenseTime's SenseMARS platform, it can quickly create comprehensive service tools that can adapt to a variety of indoor large space positioning, outdoor complex scene navigation, emergency situation positioning, cross floor positioning, underground parking lot positioning, functional service area positioning, etc, bringing fast, convenient and strong self-help airport navigation services to passengers and helping airport digital transformation and smart.