Humans have a tendency to urbanize, and they will continue to gather in cities. This does not, however, mean that rural areas no longer matter. As of 2018, the global urbanization rate was 55.3%, and that of Asia was 49.9%, according to UN data. This means that nearly half of Asia's population still lives in rural areas. With the rapid development of technology, the question of how to upgrade rural infrastructure so that those living in the countryside can reap the same technological benefits should be a common topic in Asian countries, enterprises, and universities. This is especially true for China, where rural revitalization has become a core task for the government as it seeks to build up rural areas following poverty alleviation.
As a provider of digital solutions, H3C employs more than 50% of its personnel in R&D and holds more than 13,000 patent applications. It can boast comprehensive digital infrastructure capabilities that include chips, computing, storage, network, 5G, and security and terminals and provides one-stop digital solutions in cloud computing, big data, artificial intelligence, industrial Internet, information security, intelligent connection, and edge computing among others alongside end-to-end technical services. Recent years have seen H3C exploring how to enable its technology to help build new rural infrastructure. One such case representative of H3C's search is that of the Yudong Village project.
Yudong Village is the famous hometown of Chinese peasant paintings. The question of how to improve agricultural informatization digitally, promote the development and growth of rural industries, further optimize their layout, capitalize on the beauty, wealth, and strength of rural areas, and achieve common prosperity presents a major opportunity and challenge at present. The local community has used H3C's digital solutions to build an integrated, intelligent big data "Future Rural Brain" platform tailored to Yudong and the diverse needs of the villagers.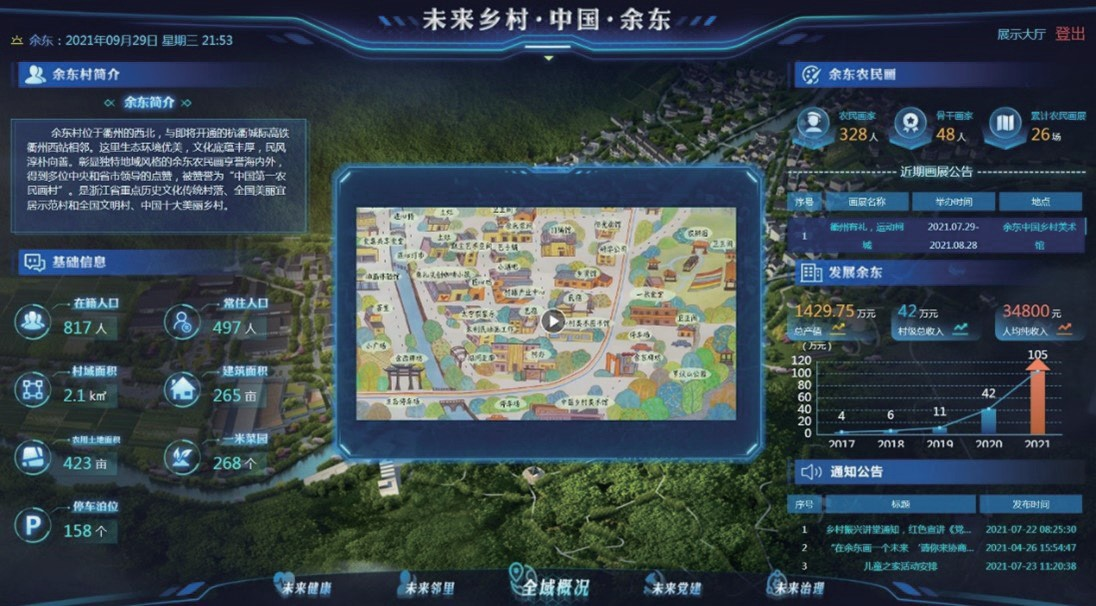 The Yudong Village "Future Rural Brain" platform
Yu Dong's "Rural Brain" focuses on three main subjects, five aspects to modernization, and ten scenarios as it builds up a number of projects in rural governance, services, and industrial magic boxes.
In culture and tourism industry, "Rural Brain" collects and coordinates industrial information in Gouxi Township and integrates peasant painting transactions, farms, tourism, and other information into IoT devices to deepen the intelligent management of scenic spots. The QR code on the roadside of Yudong Village can provide tourists with 24-hour "Yudong Tour" services that include a Yudong map, tour guide map, and public mailbox among other functions for one-stop access to tourism information and services.
In the course of optimizing villagers' daily lives, "Rural Brain" can also use the QR codes to collect information about the needs of tourists and villagers to make precise connections and improve the effectiveness of services provided. "Rural Brain" has also launched a credit points program providing coupons, gift certificates, rice, flour, grain, and oil among other credit point rewards to villagers and tourists who actively report problems and participate in governance.
"Rural Brain" has now effectively opened up a channel for future community governance and public services and initiated intelligent sharing and co-governance. Since the start of "Rural Brain", more than 600 cases have been received, with nearly 550 being settled, for a settlement rate of over 90%.
The next step calls for Yudong Village to deepen the digital reform and promote the future development of the village by digital means. Yudong Village aims to improve the digital village 2.0 solution and the "cockpit" of the "rural brain". Important information on each module can be viewed on the cockpit page, making it convenient for administrators to grasp rural situations at once. The deployment of the "one village map, dual engines for points" program and vertical industry applications will help make Yudong Village better and more intelligent. (This case won the tourism industry "micro-transformation and fine promotion" best practice case in Zhejiang Province, China in 2021, and has been recommended and provided by H3C.)